Hello friends and lovers of miscellaneous items with our names and/or faces on them!
As you know, we have been laying low this year, as we take some time off of full time touring and hunker down in our respective closets and cubby holes to write a new record. But here is the great news, this does NOT mean that there will be no new T+S excitement in your lives for an entire year.
We have hatched a plan to keep the dream alive while we aren't playing theatres, clubs and festivals in every corner of the world all year long. Behold, 2011: A Merch Odyssey!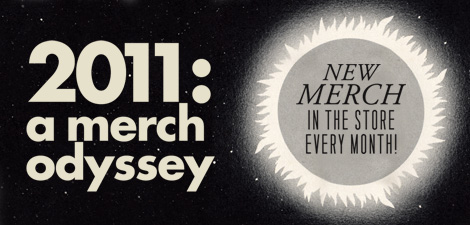 Together with EE Storey of Storey Elementary, our goal is to launch at least one new and exciting item in the Tegan and Sara online stores every month, all year long! There will be also be discounts, bundles, special promotions, limited edition, unique items and more. We will start by loading up MapleMusic.com who ship internationally, but there will be new items in the UK and Australian stores as well! We have set up an email address for your requests and suggestions, so if you have something you have wanted for ages that we used to sell, or even that we never have had before but you think it would be a great item, please send your ideas to merch@teganandsara.com.
The first items will be launched on Wed April 20th at Maple Music, so check back here then to see what they will be! We are very excited about this, and we hope you will be too!
T+S