High School, a memoir and TV show by Tegan and Sara.
Based on musicians Tegan and Sara Quin's best-selling memoir, High School is a story about finding your own identity—a journey made even more complicated when you have a twin whose own struggle and self-discovery so closely mimics your own. Told through a backdrop of '90s grunge and rave culture, the series weaves between parallel and discordant memories of sisters growing up down the hall from one another. Stream now on Amazon Freevee.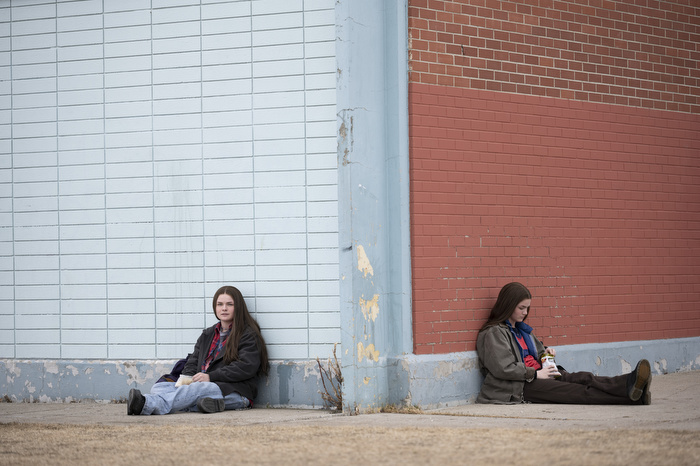 STARRING Railey and Seazynn Gilliland 
TikTok creators Railey and Seazynn Gilliland are true newcomers to the television world. Discovered via TikTok by platinum recording artists Tegan and Sara Quin, twins Railey and Seazynn are excited to start their acting journey as leads in the upcoming Amazon Freevee coming-of-age series, High School, based on Tegan and Sara's New York Times best-selling memoir of the same name.
In the series, Railey will portray the high school version of Tegan, a gregarious, confident, and extroverted teenager, who turns to music to explore her vulnerabilities. Seazynn will portray the high school version of Sara, a reserved, observant, and sensitive 15-year-old who, for the first time, starts to access her own self-confidence through playing music.
Railey and Seazynn were born and raised in Fresno, CA. You can find them on TikTok as @seazynn and @homierails or on Instagram as @seazyynn and @raileygilliland.
"This account of the pains and pleasures of dirtbag queer-girl adolescence is everything you could want from a memoir: honest and hilarious, dishy and sweet, smart and self-aware and utterly charming. What a gift to get this view of Tegan and Sara as sisters, as friends, and as artistic collaborators, as they were becoming musical icons, and—more importantly—themselves."
CARMEN MARIA MACHADO, author of Her Body and Other Parties
"High School gives us a glimpse into the struggles and triumphs of both sisters as individuals and an evolving band. Their vulnerability, honesty, and compassion burst through, and I know will make countless people feel less alone. It is so important for the LGBTQ+ community to have memoirs like this to be able to recognize themselves and be inspired to follow their truth."
ELLIOT PAGE, actor and producer
"Tegan and I did a project on Mussolini in high school and we spelled Mussolini wrong – hope they hired a good editor!"
BEST FRIEND FROM HIGH SCHOOL
"There's simply nothing like it. It's a completely original, utterly gripping, gorgeously written and captivating memoir that must be read."
AUGUSTEN BURROUGHS, New York Times bestselling author of Running with Scissors and Toil & Trouble
"High School embodies the singular gift of words leaping off of the page and becoming feelings, rattling around in the hearts and minds of a reader. The truth of nostalgia is that it must have multiple lenses to operate in its most flourishing form. Much like in their music, in this book, the voices of Tegan and Sara are two distinct bodies of water flowing into the same harmonious river, spilling through the echoing hallways of old high schools, through the bedrooms of first heartbreaks, through the old haunts that remind you of your own. This book is a triumph of memory, affection, and engaging writing"
HANIF ABDURRAQIB, author of Go Ahead in the Rain: Notes to a Tribe Called Quest
"Intense, vulnerable, and life-affirming…Tegan and Sara take us back through their whirlwind journey, densely packed with the intricate complications and the envious, unspoken connection of growing up an identical twin."
ABBI JACOBSON, comedian and author of I Might Regret This