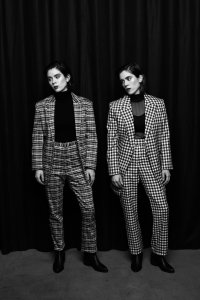 When we released The Con exactly 10 years ago today – July 24, 2007 – we had been on earth for 9,390 days. Another 3,650 days have passed since then and if we're lucky we could live another 12,510 days. In a way, we're at the hallway point of our lives; "halfway to death" as our Dad ominously told us on his 35th birthday. This was also the kind of existential number-crunching we were doing during our 26th year on earth in 2007, and The Con was born from that experiential panic.
To commemorate the impact The Con had on our career and songwriting, today we are very excited to announce The Con X: Covers, a new album featuring 14 of our favorite artists covering all 14 songs from the original album. When I hear another band or artist cover one of our songs it can be indescribable and pleasantly disorienting – creating hope where there was originally hopelessness or joy where there was only ever regret. A pop song can become a claustrophobic ballad, or an anguished confession might be transformed into a euphoric mantra. In some ways hearing someone else interpret something so familiar is a way to finally be freed from the personal history of the song and to hear it for the first time.
The Con X: Covers will be released on October 13, 2017, and we are especially excited to announce that our record label, Warner Bros., will be donating net album proceeds to The Tegan and Sara Foundation, working in support of LGBTQ girls and women. Our next announcement will include the full list of artists (be patient!), and for now we want to thank each and every one of them for donating their time and talents to this cause that we are so passionate about.
xo Sara (and Tegan)