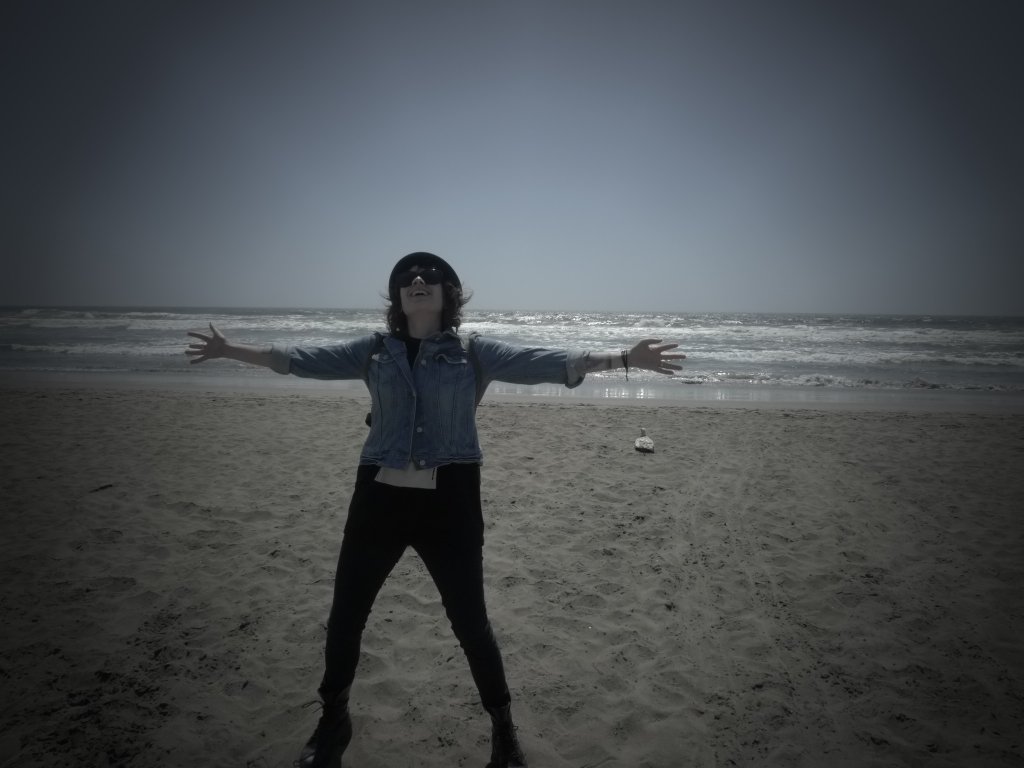 Hello Everyone!
What a whirlwind these past 3 weeks have been! It all started on the West coast in San Francisco with SF Pride! It was invigorating to be involved with Revel and Riot and to meet so many wonderful people during our week there. I was recharged completely when we flew to New York for rehearsals for our upcoming Canadian tour! We decided to change up the band for this little Canadian tour. We added some great musicians whose names are Ben Perowsky and Brad Albetta! Our plan was to still play as a full band, but strip things down to the basics. We only had a few days to rehearse but it was a lot of fun. It seems after releasing our rockiest record yet (Sainthood), Sara and I are craving a little return to our folky roots. Who knew that would happen?! Ha.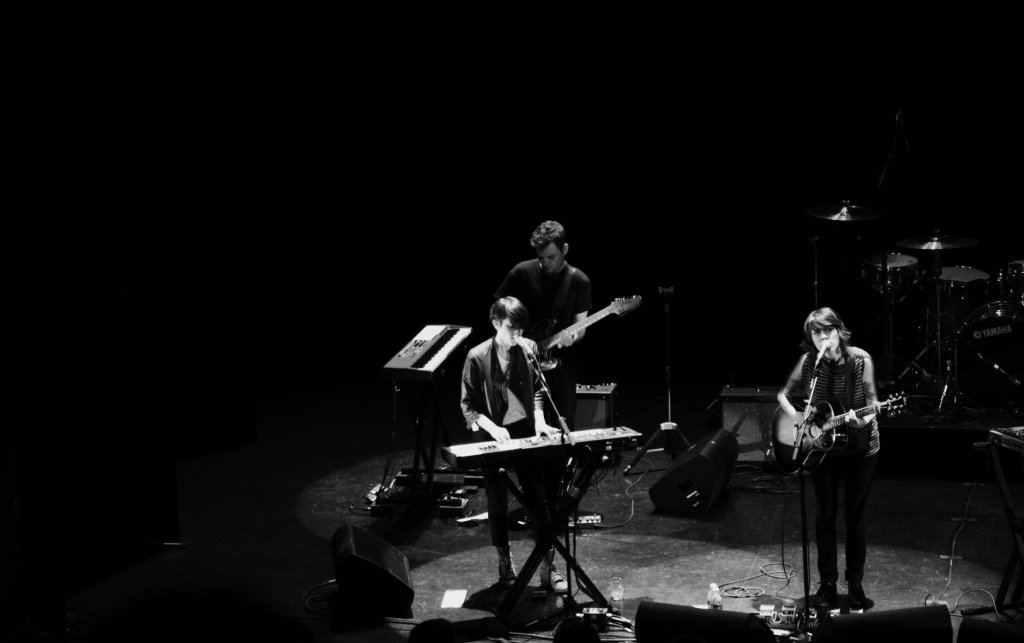 Every show was magical for different reasons this past week, but what they all had in common was the feeling of joy that I had during each of them. I know that might sound cheesy but it's been a while since I felt actual joy on stage. Perhaps we just needed a vacation or perhaps it was the actual audiences or the stages or the nights we played, but something felt totally different and it was awesome. It's been 13 years since Sara and I started touring and playing professionally and while we toured across Canada this past week I was reminded how lucky we are to do this job.
Our tour finished up with two nights at The Grand Theatre in Calgary. It was nice to end it where it all began! We tend to hit Calgary at the start of a cross Canada tour each year and so this time we decided to end the tour there! What a great idea (patting myself on the back)! We were able to relax and sleep at home while getting to hang out in our old hometown and see friends and family! It was amazing!

While I was in Calgary I stayed at my step dad's and took a few photos of some really old memorabilia. See below for my favourite pieces. The first is a Sara and Tegan shirt. The first we ever made!!! I still remember going into the t-shirt shop and explaining what kind of shirt we wanted. We did a white shirt with red writing and a blue shirt with yellow writing. The sun and moon kill me. I have no idea why we added that flare. Thank god we did though. Eek! Ha.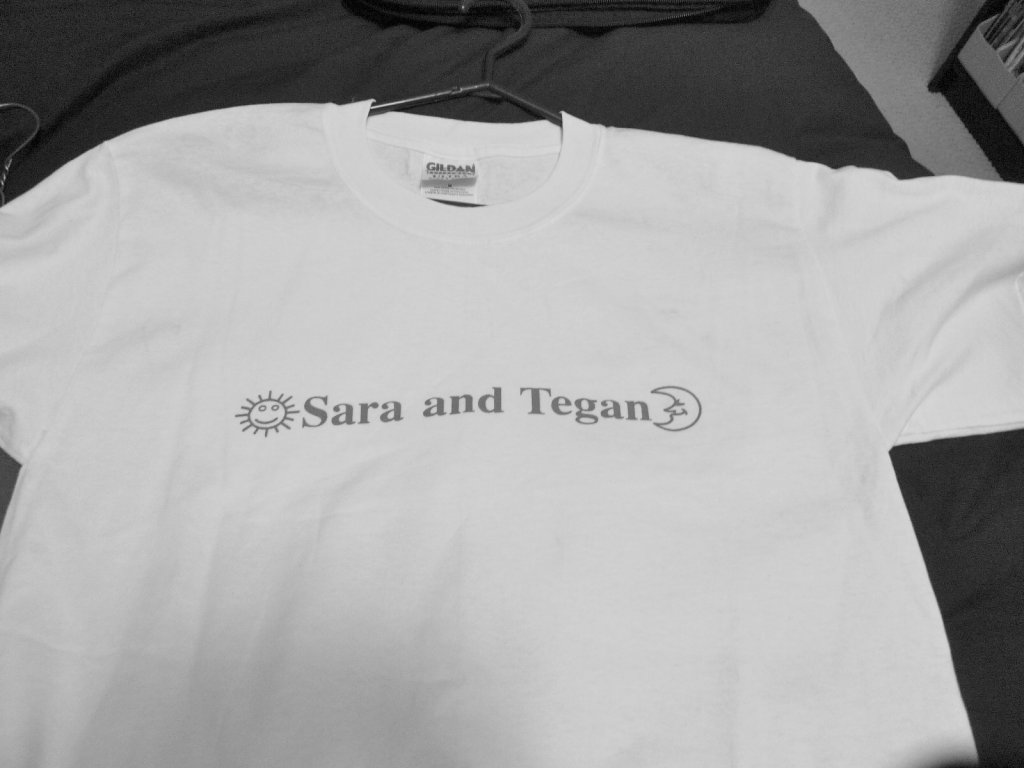 Below is a ticket from the Under Feet Like Ours CD release party. I remember how nervous I was for weeks leading up to that night. We were only 19 and about to sign a record deal and I remember feeling so terrified of what that all would mean. I also remember my Gramma coming to that show and us having held a table for her and she said "why do I have to sit? I can't dance?" She stood the whole show. So cool.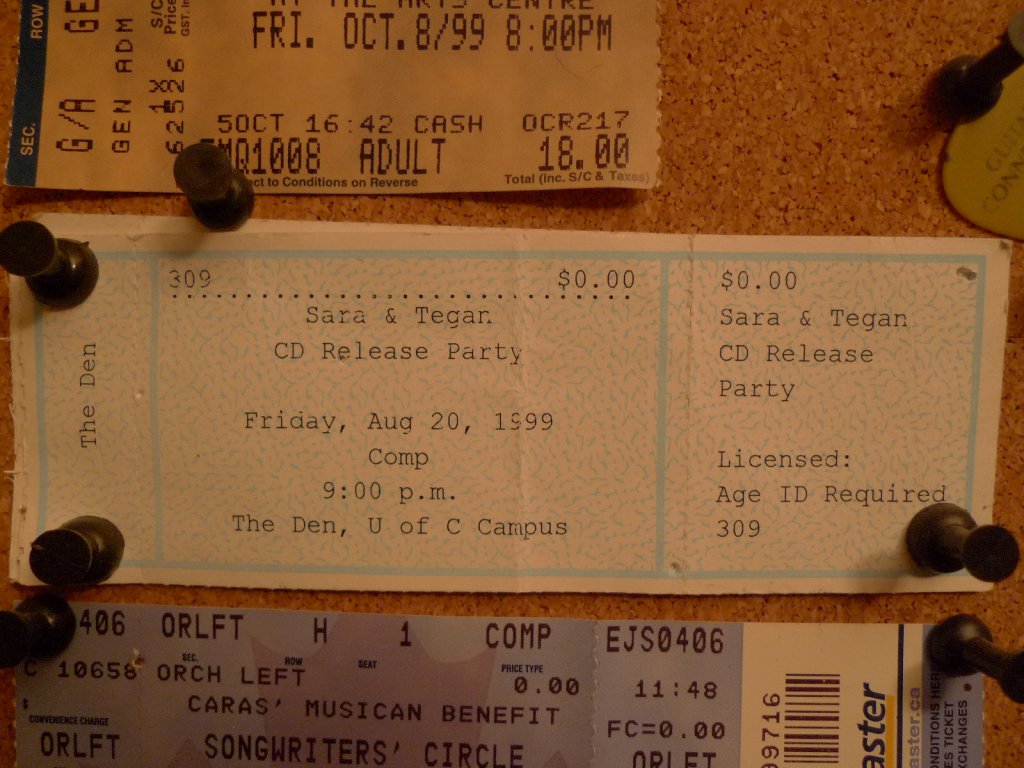 I just want to take a minute to reflect on the date of the release party, August 20th, 1999. I met fans of Tegan and Sara this week that were born that year. BORN THAT YEAR! Ha. I also met fans born in the late 1950s. We feel truly blessed to have a fan base that spans so wide. TRULY! I met another set of adorable teenagers that were born the year I graduated! Seriously. It's so neat to be playing to people of all ages. Finally!
And here is a shot from the Skyride at the Calgary Stampede this past week! It was SO great to go back to the Stampede. It's been YEARS since we've gone. As kids we LOVED going with our parents and our cousins and as teenagers we LOVED spending the day eating mini donuts and racing from ride to ride with our friends. We'd end up at the Coca Cola stage to check out out favourite bands. I remember one year Sara crowd surfing to…54.40? Really? I think so! Now that we're so much older we ate mini donuts but only rode the Sky ride and walked slowly taking in the sights! Ha. Sara even won us all prizes at the games area. Thrilling stuff kids!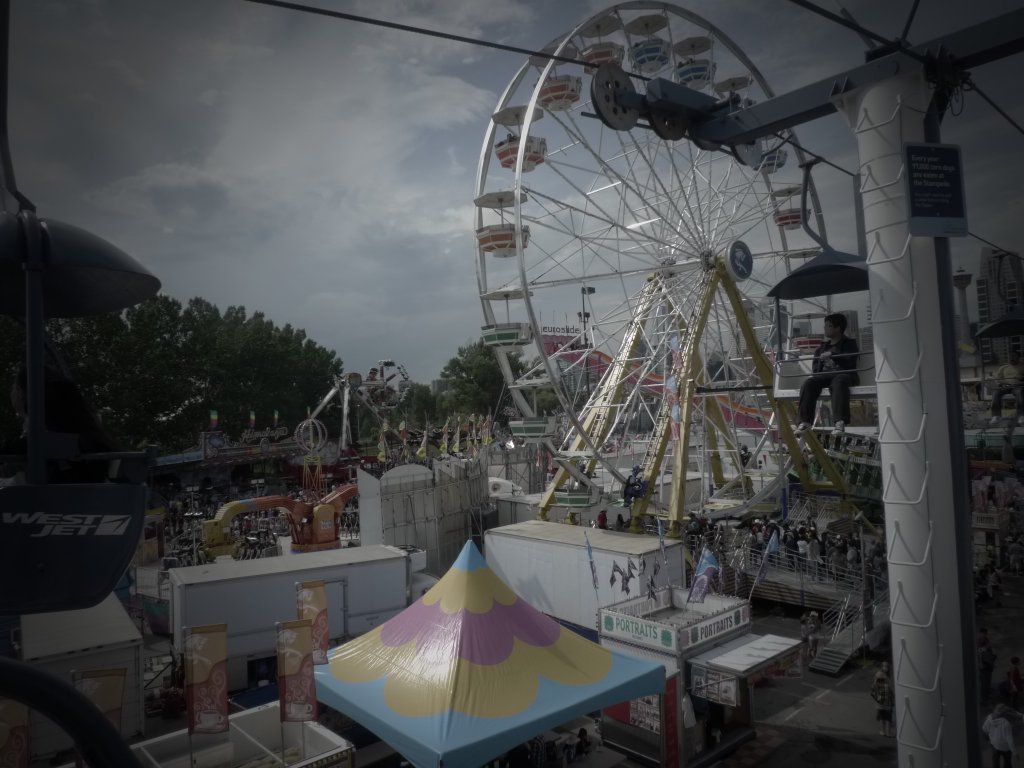 It's been a great few weeks! Now it's time for a bit of relaxing before we head to Newport for the folk festival at the end of the month! After that – vacation? Maybe.
Have a good week! And thanks to you ALL for such a wonderful mini tour!
-Tegan