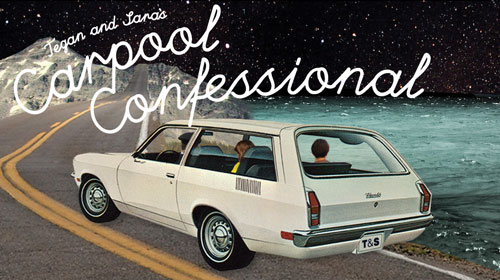 Hello!
We're one week into recording our new album and it's going so great!!! Sara and I are trying to step outside of our comfort zones and push ourselves to the extreme with this one so get ready for a whole new T+S sound!
We're working with a few different producers on this one, starting with Greg Kurstin (He's worked with The Shin's, Lily Allen, Sia, Foster the People and lots more) and a whole whack of different musicians! It's going to be wild! Sara and I strive to keep things fresh and exciting with each new record and a week in I definitely feel like we're accomplishing that so far.
So, at this point you might be thinking to yourself, oh man how do I find out what's going on weekly with T+S while they make this wild + crazy record? Well, good news for you then because we're filming a TV show in the back of our car as we drive to and from the studio the entire time! For the next 8 weeks or so we'll be posting an episode of our show here every Tuesday! So come back weekly to stay up to date.
The show is called Carpool Confessional! We hope you'll love it. Each week we'll have different guests and try and share with you all the gory, fun, exciting and mundane details of our process! Hooray! Enjoy Episode #1 right now!
-Tegan