Hey Everyone.

Sorry we've been so bad about updates here at .com. It's been busy on the Tegan and Sara Farm. Sara is usually in charge of getting stuff up but she's been super busy playing Scrabble, getting food poisoning and attending Wimbledon (all true facts about Sara).

We just arrived back safely from England. Had a lovely time on tour this month in Europe I have to say. Every show was incredible. It's been a long time since I have felt every show went as well as the one before it. It's truly heartwarming to see all the new fans and old fans coming together to support our band overseas. Thank you to each and every one of you. Thanks to Hesta Prynn for being there to support our headline shows as well! You rule! www.hestaprynn.com



Below is a link to the blog I wrote while on tour this June in Europe. Paper Magazine were nice enough to let me blog about my travels and post photos by Lindsey Byrnes along with my written adventures. Check it out here:
http://www.papermag.com/2010/06/tegan_and_saras_european_tour_3.php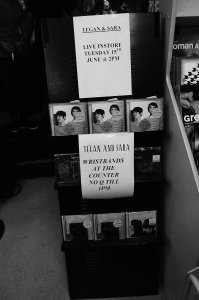 The lovely people of State.ie filmed a short movie about Sara and I performing at Tower Records in Dublin that we think it's really great. The end bit about the dirty guitar book Sara purchased is worth the wait so watch until the end. Thanks to them.

And lastly. We've been talking a bit about this next piece for a while now. It was one of my favourite things we did for Sainthood this year and we've been waiting patiently to see it ourselves. It's finally on the internet!


Sara and I were asked to perform Alligator on Mamma Yamma, a childrens show on CBC Kids here in Canada back in January. They asked us to change the lyrics so they were more "kid friendly". See the result below.
Thanks everyone! More updates this week! Please join the mailing list (in the bar to the right) for chances to win free tickets, get access to merchandise codes and pre-sales as well as get more personal messages from Sara and I in the coming months.

Your friends,
Tegan (and Sara)