friends!

thanks again to those of you who came out to see the first run of shows in support of SAINTHOOD. we had an incredible tour and although my mother warns against picking favorites…stockholm and munich…we're smitten. check out our video blog, REFLECTIONS, if you want a closer look at our dance moves, my bed head, and the backstage shenanigans of tegan and a pink unicorn.

we also want to thank astronautalis (andy), our incredible support act on our european tour. he killed it every night and was a sweetheart to share a backstage with every day. we wish him the best of luck on his upcoming tour(s).

tegan and i are taking a little break for the holidays. we're putting together the show for the new year. we've been spending a lot of time sorting through emy storey's fabulous merchandise designs. we're going to attempt something new, a survey, just to get an idea of what YOU like, in hope to give us some direction when ordering hoodies and tshirts for the tours coming up in 2010. check it out if you have time at www.teganandsara.com/merch-survey.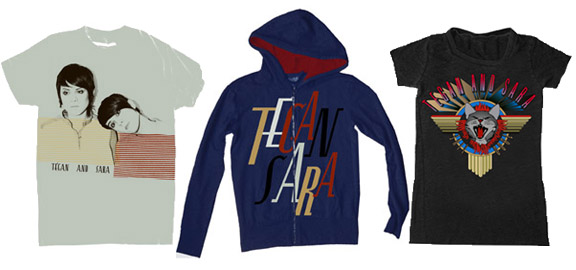 New merchandise online in our store soon! fabulous holiday bundles! scarves! books are still available! trying to keep things exciting for your stockings!

this has been an incredible couple of months. we're so happy with the response to SAINTHOOD and couldn't be more grateful for the support from all of YOU.

sara (and tegan)