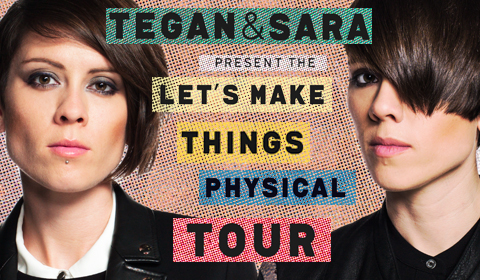 Hello!
The pre-sale for our Let's Make Things Physical Tour begins today at 10am venue local time! We hope you're as excited as we are about the VIP Package and all its goodies!
All ticket links can be found at teganandsara.com/shows.
$1.00 from each pre-sale ticket purchase will be donated to NYCLU's Teen Activist Project. As an extra bonus, each pre-sale ticket purchased through our website will also be automatically entered to win a pair of our T+S Keep shoes signed by us!
A VIP ticket includes…
– Access to experience Tegan and Sara sound check
– Priority seating and/or priority entrance to the show
– Let's Make Things Physical Tour laminate
– Let's Make Things Physical Souvenir Tour Program signed by Tegan and Sara
– Meet and Greet with Tegan and Sara
– Personal Photo with Tegan and Sara
Please note:
You may be required to arrive up to 3 hours before doors, depending on the day's schedule. In certain cases that you will be required to leave the venue after the Meet & Greet, you will be given a wristband granting priority entrance upon your return.
Hope to see you soon!
t+s