Hello friends!

We have lots of merch news to announce for this second launch of 2011: A Merch Odyssey!

First off, vinyl fans rejoice! Every single Tegan and Sara title that is available on vinyl is now in stock, including the Official Vinyl Collection box set, which includes Home Recordings.

Second order of business is we have some new colourful shirts available, and just in time for the arrival of actual hot weather, our first ever tank top!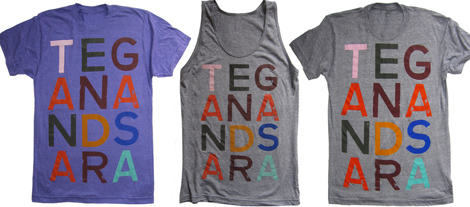 We also have some great news for those based in the UK, or in close proximity! Due to popular demand we have stocked up our UK store with 3 new shirts, including the feature T's from last month and the tri orchid letters shirt shown above. Hooray for paying less for shipping! If those shirts do well, we will look into adding more!

Finally, here come this month's feature deal… we found some So Jealous era posters in a deep dark corner of storage, and we have been brainstorming what to do with them. Here is what we came up with!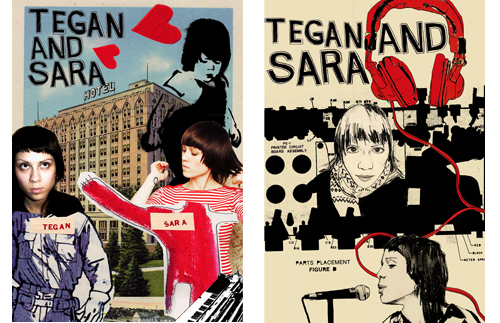 Buy two regular priced t-shirts (excluding new and sale items) and receive one of the posters for free! If you want both posters, you buy 4 shirts etc. In order to avoid extra shipping charges for you, the posters will not be shipped in a tube, but delicately folded and packed in with the shirts. There are a limited amount of these posters, so this offer stands only as long as supplies last.

Ok! That's it for the second installment of the Merch Odyssey! Now back to the laboratory to cook up what's next!

t+s