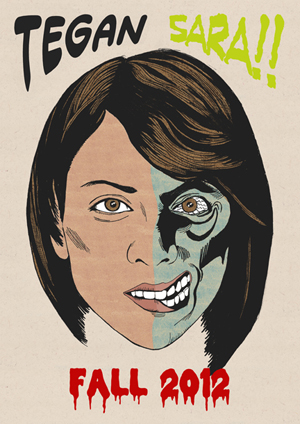 Hello!
We've started a stretching regimen, and a Rocky inspired training schedule as we prepare to hit the road with the Black Keys next month. But the southern West coast just wasn't enough for us, we wanted to come see our people all the way up to BC!!

Today we are announcing the shows we are adding to our current run of dates with the Black Keys, and festival dates in Austin, Mountain View and Mexico City.
September 23 – Vancouver, BC – The Vogue Theatre
September 24 – Seattle, WA – Neptune Theatre
September 25 – Boise, ID – Knitting Factory
September 28 – Eugene, OR – Cuthbert Amphitheater
Vancouver, Seattle and Boise will be our own shows, and in Eugene we'll be joining the Shins! We will be playing some of our new material and we know you are going to love it. We suggest you also do some stretching to prepare!
The pre-sales for these shows start on Wednesday, August 8 at 10am PST, right here at teganandsara.com/shows. There is no password needed!
We are so excited to get back out on the road that we wanted to offer a special ticket bundle for the pre-sale including a poster featuring our favourite EE Storey design – Two Face! The public on sale starts Friday.
We can't wait to get back on the road to see you, we hope you feel the same!
skq