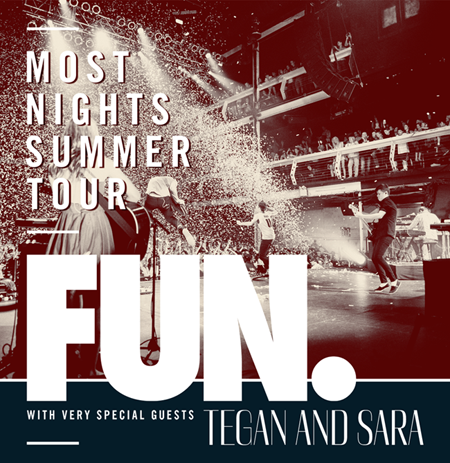 Hello!
We are so thrilled that you are all loving Heartthrob, it really means the world to us to have your support! We can't wait to get back on the road so you can hear the new songs live. Today we are extremely excited to be announcing the Most Nights Summer Tour, a big run of dates with some very good friends of ours, FUN.
We'll be playing our new record plus tons of oldies and have an amazing show planned for you!
The pre-sale for all shows starts TODAY at 12PM venue local time. Tickets links can be found at teganandsara.com/shows. The pre-sale password is: SOMENIGHTS.
July 6 / Toronto, ON / Downsview Park
July 9 / Cleveland, OH / Jacobs Pavilion @ Nautica
July 13 / Rochester, NY/ CMAC
July 16 / Detroit, MI / Meadow Brook
July 18 / Pittsburgh, PA / Stage AE
July 19 / Philadelphia, PA / The Mann Center
July 20 / Columbia, MD / Merriweather Post Pavilion
July 22 / New York, NY / Hudson River Park – Pier 26
July 23 / New York, NY / Hudson River Park – Pier 26
Aug 22 / Denver, CO / Red Rocks Amphitheatre
Aug 23 / Salt Lake City, UT / Salt Air Outside
Aug 27 / Lake Tahoe, NV / Lake Tahoe Harvey's Outdoor Arena
Aug 28 / Boise, ID / Idaho Botanical Garden
Aug 29 / Portland, OR / Edgefield
Sept 6 / Berkeley, CA / The Greek Theatre – UC Berkeley
Sept 10 / Phoenix, AZ / Comerica Theatre
Sept 12 / Dallas, TX / Gexa Energy Pavilion
Sept 16 / Tuscaloosa, AL / Tuscaloosa Amphitheatre
Sept 18 / Boca Raton, FL / Mizner Park Amphitheatre
Sept 19 / Orlando, FL / UCF Arena
Sept 22 / Whites Creek, TN / The Woods at Fontanel
Sept 24 / Charleston, SC / Family Circle Cup Stadium
Sept 25 / Raleigh, NC / Red Hat Amphitheater
Sept 26 / Charlottesville, VA / nTelos Wireless
A portion of the ticket sales from the tour will benefit The Ally Coalition, a partnership started by FUN. and designer Rachel Antonoff, devoted to encouraging and inspiring the music, fashion, and entertainment communities to take action in support of LGBTQ equality. Each tour stop will showcase the Equality Village, featuring The Ally Coalition as well as other local and national LGBTQ equality organizations. For more info on The Ally Coalition, please see http://www.theallycoalition.org.
As you can we are going to be covering a lot of ground all over North America, so we hope to see a lot of you this summer!
t+s