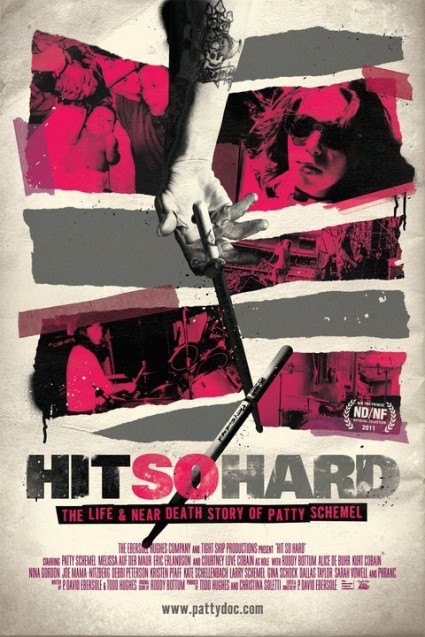 Hello!
Last night I wanted to stay home and watch Vampire Diaries, but my arty girlfriend suggested we go see a documentary instead. I went along with her because she is cooler than me and I often try and siphon what coolness I can from her.

The movie was called Hit So Hard: The Life and Near Death Of Patty Schemel. Patty was the drummer for Hole. As a die hard, crazy obsessed Hole fan, this documentary was shocking and moving and inspiring and sad and a million other things at once.
Here is the trailer…
If you have a chance to go and see this movie PLEASE DO. It's not really playing that many places, (screenings are listed here http://pattydoc.com/) so I know a lot of you will be like, "Thanks Tegan for suggesting we do something we can't actually do". I know. But it will eventually be released on DVD or Netflix I imagine… so write to them and ask for more screenings or something! Whatever! Watch the trailer 10 times. That's what I did today. And I've seen the bloody movie! ha.
And now for some explanation and a tale or two:
When Sara and I were 13 we became obsessed with Smashing Pumpkins. From there we got into Nirvana and from there Hole. After Kurt Cobain died and Hole put out Live Through This I became a bonafied obsessed fan. I projected a sad, heartbroken narrative on the whole band and their lives post Kurt. My walls were COVERED with posters of Nirvana and Hole and interwoven with the posters were photos of them cut out from Rolling Stone and Spin Magazine. My parents, who were obviously the coolest people on the planet, allowed us to have subscriptions to both magazines. Sara and I would tear through the issues and then divvy up the pages to be torn from the magazine and then taped to our walls. To say we were obsessed would be generous. We were possessed.
For our 14th birthday I remember my parents got me and Sara bootleg VHS movies of live concerts of Smashing Pumpkins, Nirvana and Hole. We watched them over and over again. I remember my parents popping in for a few minutes and sort of staring confused at our hysteria over these grainy, inaudible video tapes. But they understood it on some level. They bought us the hair dye we requested when we decided we wanted to bleach our hair and dye it weird colours. They let us cut up our jeans, safety pinning them back together again immediately after. They let us buy vintage army boots and wear all their old band t-shirts. They drove us to local gigs and showed no apparent judgement when we would pile back into the van afterwards with 7 friends in tow, all beaten up, torn apart, our hair half a mess from being in the mosh pit all night at local punk shows. If anything they seemed pleased we were discovering who we were.
In our early career, everyone compared us to Ani Difranco and The Indigo Girls (both bands we loved but only discovered in the late 90's). But it was years before that, when we discovered the Riot Grrrls and Hole that we were truly inspired to start a band (OUR OWN BAND), to write songs (OUR OWN SONGS), to play them live and to make a go at having a career in music. Without those bands we would not be the Tegan and Sara that you know today. In fact you would not know us because we would have gone to University and done something different in life. Guaranteed.
In 2004 (roughly) Sara and I got asked to play a showcase for Sanctuary, our label at the time, at their offices. When we arrived and started to set up in the lobby our management came over and told us that everyone was buzzing because Courtney Love was in the building meeting with her manager. I remember feeling like I was going TO DIE. As we were setting up I played it cool. Sara kept asking me if I was going to be okay. I kept assuring her it was "no big deal", as there was no way Courtney was going to come out and watch us. When we started our set I did one scan of the audience and when I didn't see Courtney I felt truly relieved. But about half way through the first song there was some movement that distracted me in the front row. Then from behind a few people, out popped Courtney Love. I basically blacked out, but a few songs later Courtney marched up to me and extended her hand.
"You've got balls for doing this," she said. I just sat there, my mouth agape. In front of everyone she said that. People were sort of smiling and dumb struck. I think we probably looked like some unsigned baby band "trying out" for the label or something. But still. I have never forgotten that. Courtney Love told ME I had balls.
GO SEE THE MOVIE!
– Tegan