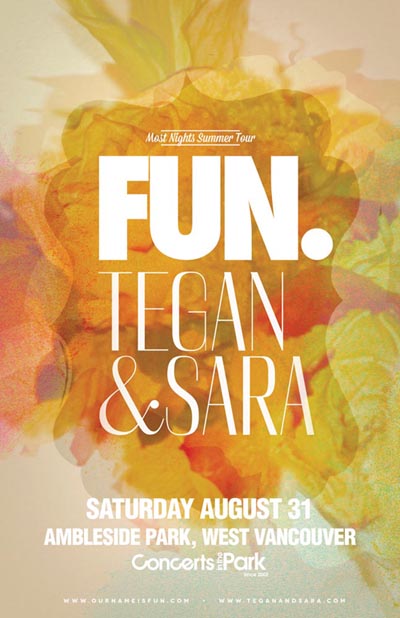 Hello!
So as you know, we will be touring all over the highways and byways of the USA with Fun. in July, August and September for the Most Nights Summer Tour, not to mention Europe, SE Asia and Australia! But we aren't done yet! We have even more shows to announce, starting with a really big one today…
VANCOUVER! Of course we haven't forgotten you. With the recent springlike temps, we are even more fired up for a big outdoor show with Fun. Saturday Aug 31 at Ambleside Park in West Vancouver! It's always so special for us to play in Vancouver with all the home town vibes so when you add a summery outdoor atmosphere there is just nothing like it!
The pre-sale is on now at http://selectyourtickets.com/promo
Password is SOMENIGHTS. Please note, the seat map is a little misleading, there are no "reserved seats" as the entire venue will be general admission.
The public on-sale starts Fri April 12 at 10am PST at http://ev10.evenue.net
Stay tuned for more show announcements to come!
t+s