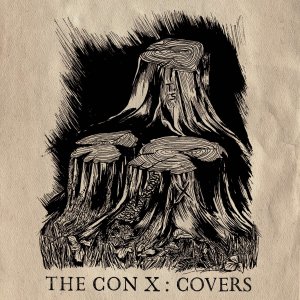 Hello,
This past winter, as the 10th anniversary of The Con quickly approached, Sara and I started to brainstorm meaningful ways to celebrate what was easily one of our most important records. Important not just because of the music or the elaborate way we approached recording it 10 years ago with Chris Walla. Important because it was the biggest leap we had made in attempting to write a cohesive group of songs that told a painful and anxious story about our different relationships to loss, death, love, compulsion, fear, letting go and moving on. Indisputably our most raw and intimate record, we wanted to ensure we created a new package that did justice to the layers of attachment that both we and our fans have had to The Con.
Almost immediately we established that a tour playing all 14 songs in a more intimate and stripped-down arrangement would be special and memorable for our diehard fans. But we also wanted a companion piece that would live on past the anniversary, hence The Con X: Covers album was born.
From day one we wanted the proceeds to go to our newly-launched Tegan and Sara Foundation, which raises money for self-identified women and girls in the LGBTQ community. With that intention set, we asked 14 artists who were either outspoken allies of the LGTBQ community or LGBTQ themselves to each cover a song from The Con. We encouraged each artist to approach the song they were covering in any fashion they saw fit. Their inspiration could come from the original record or The Con Demos, our first home recordings that were released after The Con came out. All the artists agreed to donate their time and energy to the project and their labels all agreed to waive their fees as well.
At the core of our planning was the hope that this new project would tell another chapter in the story that was The Con. Music allows us to project our own stories, losses, and anxieties onto the melodies and words of someone else. It's a universal language that bonds people together from different worlds, countries, and experiences. Somehow all these new covers manage to come together to add a new chapter to The Con. We are beyond grateful for the contributions of each artist, and we hope fans of The Con will be moved by their interpretations.
The preorder for The Con X: Covers will begin on September 19 via teganandsara.com.
The CD and digital/streaming album will be released on October 20.
Vinyl will be released on December 22.
Below is the tracklisting!
xo Tegan and Sara

CD and Vinyl Tracklisting:
1. Ruth B. – I Was Married
2. MUNA – Relief Next to Me
3. Shura – The Con
4. Mykki Blanco – Knife Going In
5. PVRIS – Are You Ten Years Ago
6. Ryan Adams – Back in Your Head
7. City and Colour – Hop a Plane
8. Kelly Lee Owens – Soil, Soil
9. Bleachers – Burn Your Life Down
10. Hayley Williams of Paramore – Nineteen
11. Sara Bareilles – Floorplan
12. Shamir – Like O, Like H
13. Trashique (GRIMES X HANA) – Dark Come Soon
14. CHVRCHES – Call it Off
Digital Bonus Tracks:
15. Cyndi Lauper  – Back in Your Head (Bonus Track)
16. Bleached – One Second (Bonus Track)
17. Vivek Shraya – I Take All the Blame (Bonus Track)
18. Tegan and Sara – Miami Still (Bonus Track Demo)