Today is the day! We are happy to officially launch our new merch project, 2011: A Merch Odyssey!

Starting today we will be launching new items in our online store every month for the rest of the year. That means plenty of cool new EE Storey designed items for you to call your own.

To kick things off we have tapped into our plunk past and come up with some 90's inspired shirts and a hoodie. We hope you like them as much as we do!

Since we asked you for some feedback on what type of merch you would like to see, the responses have been pouring in. SO many of you have asked for posters, so we are delivering with two huge posters, just like the giant Smashing Pumpkins one Sara used to have over her bed in high school.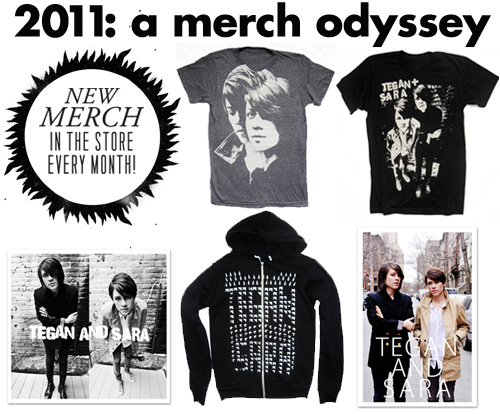 All the items you see above are available now in the store, and here is even more good news. We have created lots of bundles featuring all these new items with great discounts. Or you can build your own bundle, because when you buy any of these new items, you will receive 10% off anything else in the store that you purchase in the same order! The only items excluded from this discount are cds/vinyl/dvds, items that are already on sale and bundles.

We have also marked down all of our scarves to 25% off their regular price of $30, and we have stocked up the sizes on our most popular designs.

We are planning on adding more items in the UK and Australian stores soon as well, so if you are wanting anything in particular in these stores, please let us know by emailing merch@teganandsara.com. If we get more demand at these stores, we will be able to stock them up further, but meanwhile items bought in the Maple store can be shipped all over the world!

Alright, over and out on the initial transmission for 2011: A Merch Odyssey!
t+s