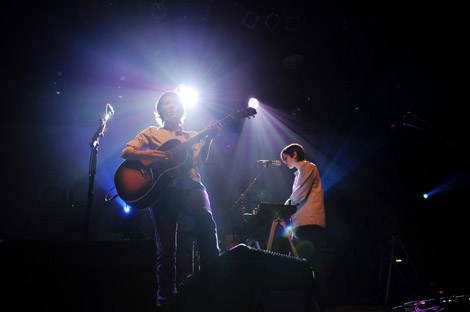 Sara and I graduated high school in 1998. Our professional career of playing music started shortly thereafter. Touring back then meant Sara and I piling into a friend's car, or taking the Greyhound bus between cities and shows. We couldn't afford to tour with a band, so Sara and I and two guitars and a hockey bag of merchandise would head out on the open road alone. Terrifying to imagine now 12 years later. The image in my head makes us seem so young and vulnerable, so unprepared for what was to come. And we were unprepared. Don't let our resume or stories or track record imply otherwise. Our first show with Neil Young and The Pretenders in the summer of 2000, we stepped on stage for sound check and realized, we wouldn't be sitting on stools. Neil's guitar tech rushed in to drill holes for guitar straps and then we were ushered back on stage to sound check to 18,000 empty seats. Unprepared doesn't actually do it justice, now that I really am thinking about it.

Sometimes memories like the one I just typed out hit me as I'm drifting off to sleep and I feel body tense, I feel my mind start reeling. How did we survive? Why did we continue? Once we drove all the way from Calgary to Guelph (2.5 days of driving) only to have the show get canceled when we arrived. How did we not give up? Why didn't we give up? Year after year, more tours would come in, more shows would be sold out, more records would sell, more people would offer to work on our behalf and most importantly more fans would be made. Record after record our tours became more fun, more diverse, better sounding, better looking and more populated. Tour after tour left us feeling hopeful and energized. I'd return home from the road happy and proud to be doing what we were doing rather than rejected and burnt out.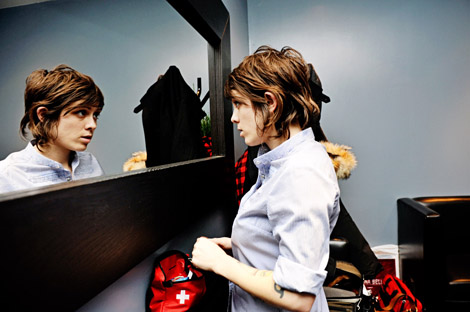 Our first cross Canada tour was in the fall of 2000, if my memory serves me correct. It was a small tour when I think back on it now. We were playing to maybe 500 people a night at most. But it was our tour. Our poster that we had designed, our band the headliner, our pockets lined with….well…we were making a living, finally. Sara and I would jump up and down on the hotel room beds each time we returned from a night of making music. I remember calling our agent in the middle of the night after our first sell out. We settled our own shows, sold our own merchandise, played body guard and stage manager for each other. It was hard work but we were willing to do it because we loved making music so much. We'd chosen a path of independence. Opted to sign with an indie label to keep control of our project and to retain some ownership over ourselves and our music. This meant we had a lot of control, but often times, it meant things took longer and took more work.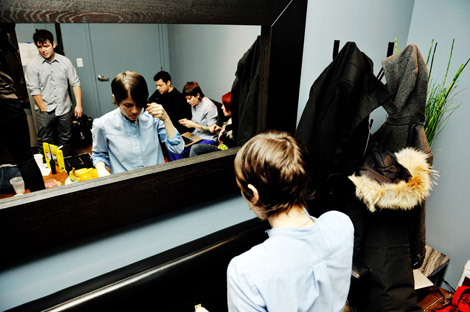 This summer will mark 12 years of working in this business and making music together professionally. As Canadian artists it is always so special for us to be able to tour in our own country. We've been lucky enough to have success all over the world. Being seen as international artists was always at the top of our list when we were setting goals between records early on in our career. But home is home, and Canada is home. This past month has been a dream. We played beautiful, legendary venues across this country to family, friends and fans of all eras. Our band thanks you for your support Canada. Thank you to each and every person who came to the shows and sang along. To all of you who bought posters in support of Haiti we thank you so much. We feel so proud to have such generous and thoughtful fans. Lastly, thank you to those of you who have been with us all these years. We appreciate your support and we are so grateful for it. From the bottom of our hearts to yours,

Thank you,

Tegan (and Sara)