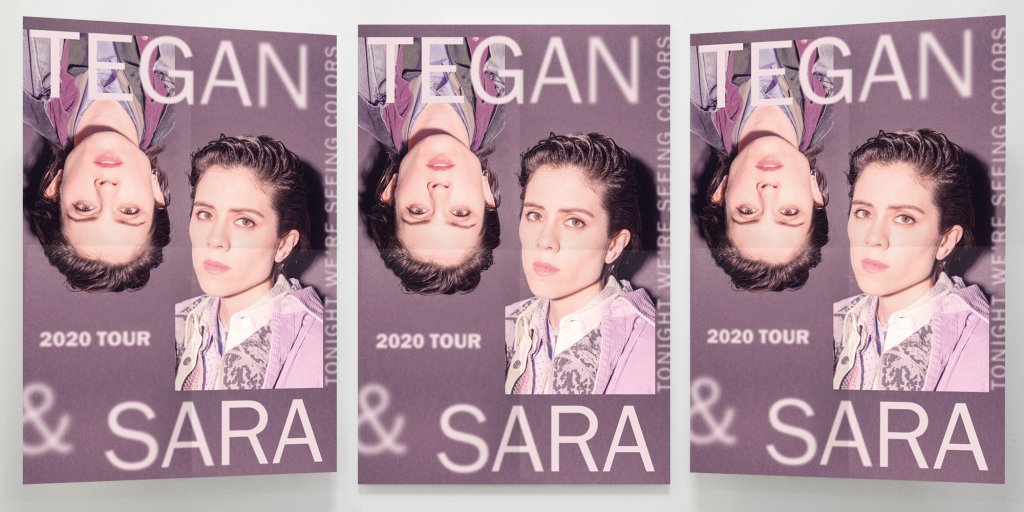 Hi everybody! We've decided to indefinitely postpone playing headline shows until we know it's safe to get back out on the road. We hope that all of you are being careful and safe at home. xo, T&S
#  #  #
We're so excited to finally announce our Tonight We're Seeing Colors Tour!! We have an awesome set list in store and some pretty sick full band production planned that we think will blow your mind! As always you can expect new merchandise and some big surprises from the show!
There are still more dates to be announced (next up is Seattle, Salt Lake City, and Raleigh) so don't panic. We will be in Canada a lot in July. Keep your eyes peeled, eh? (Canadian joke).
Who are we touring with!? Georgia and Jackie Mendoza will be supporting most dates in May and June. While IDER and Claud will be supporting most dates in August and September! We love all four of these acts and we think you're going to love them too.
As always, $1 from every ticket sold on this tour will be donated to the Tegan and Sara Foundation. Read more about our work here: teganandsarafoundation.org
Before we go two important notes:
We are proceeding optimistically with our planning but acknowledge that we will watch the developing situation with COVID-19 closely and heed all recommendations about social gatherings as the tour approaches.
Also, the spike in the actions of scalpers and secondary sites – buying up tickets to our shows and selling them for absurd prices online – is upsetting to us. To combat this issue, we have made the following adjustments:
• No pre-sales
• 4 tickets per person purchase limit
• Late delivery of tickets (2 weeks prior to show)
• Majority general admission venues with limited reserved seating where available
Touring is life to us. Know that while seeing us live hopefully brings joy and inspiration to all of you, it also delivers us the purpose and meaning WE need to keep going! So, we hope we'll see ALL of you out there in 2020!
Talk soon,
Tegan and Sara
PS – Be sure to sign up for our mailing list and follow us on all our socials, so you don't miss any other upcoming tour announcements.
*ON-SALE POSTPONED*
Mon-May-18 – Spokane, WA – Knitting Factory Concert House
Tue-May-19 – Missoula, MT – The Wilma
Wed-May-20 – Boise, ID – Knitting Factory Concert House
Thu-May-21 – Eugene, OR – McDonald Theatre
Sun-May-24 – San Diego, CA – SOMA
Tue-May-26 – Phoenix, AZ – The Van Buren
Wed-May-27 – Tucson, AZ – Rialto Theatre
Sat-May-30 – Denver, CO – Ogden Theatre
Mon-Jun-01 – Kansas City, MO – The Truman
Tue-Jun-02 – Saint Louis, MO – The Pageant
Wed-Jun-03 – Indianapolis, IN – Egyptian Room @ Old National Centre
Sat-Jun-06 – Chicago, IL – Riviera Theater
Thu-Jul-30 – Portland, OR – Oregon Zoo Amphitheatre
Sat-Aug-01 – Los Angeles, CA – Hollywood Palladium
Wed-Aug-05 – Houston, TX – Warehouse Live Ballroom
Thu-Aug-06 – Dallas, TX  – House of Blues
Fri-Aug-07 – Tulsa, OK – Tulsa Theater
Mon-Aug-10 – Detroit, MI  – The Fillmore Detroit
Tue-Aug-11 – Cleveland, OH – House of Blues
Thu-Aug-13 – Toronto, ON – Rebel Complex
Fri-Aug-14 – Montreal, QC – MTELUS
Sat-Aug-15 – Boston, MA – House of Blues
Mon-Aug-17 – New Haven, CT – College Street Music Hall
Tue-Aug-18 – New York, NY – Pier 17
Fri-Aug-21 – Philadelphia, PA  – The Fillmore
Sat-Aug-22 – Washington, DC – The Anthem
Mon-Aug-24 – Richmond, VA – The National
Tue-Aug-25 – Norfolk, VA – Norva
Fri-Aug-28 – Pittsburgh, PA  – Roxian Theatre
Sun-Aug-30 – Nashville, TN – Brooklyn Bowl
Tue-Sep-01 – Charleston, SC – Charleston Music Hall
Wed-Sep-02 – Atlanta, GA – Tabernacle