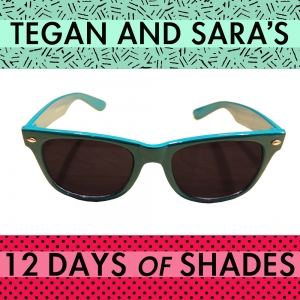 As you all know – we love sunglasses. We've been lucky enough to be gifted A LOT of them this past year from some of our favourite sunglass companies. In addition to those gifts, we also find ourselves purchasing new ones on tour. And at home. And online. 🙂
The sunglasses have started to pile up.
So, rather than shamefully hiding the excess under our beds, we have decided to put them to better use.
In honour of the holidays and the act of giving we are going to do our own T+S version of the 12 days of Christmas and auction off 12 pairs of our sunglasses with all proceeds going to the Southern Law Poverty Center. Starting TODAY!
For the next 12 days – please go here to participate in Tegan and Sara's 12 days of Shades.
Tegan xo