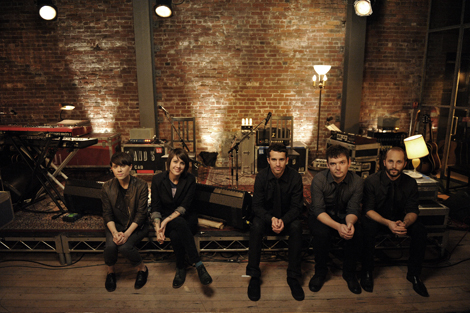 Tegan and Sara fans!
We're so sorry we've been so bad about writing. Things have been very busy around Tegan and Sara headquarters. In the past month Sara and I have been flying around and enjoying a bit of time off while also preparing for a HUGE shoot we did in Vancouver this past weekend. As some of you know we are planning a DVD release for next year! Sara and I have been shooting all year long for the DVD. This summer while we were on tour with Paramore in the US, we got lots of good stuff. Next up is India and then New Zealand and Australia. It feels so good to be working on a creative project just for our fans! It's been over 5 years since the release of It's Not Fun Don't Do It and we can't wait to release another action packed, T+S filled DVD with performances of all different sizes not to mention documentaries about touring in 5 different countries among many other things. This weekend we filmed two concerts at a recording studio here in Vancouver as not only will we be releasing a DVD with performances but we will also be releasing a LIVE RECORD!!! Please stay tuned for more information in the upcoming year!
Thursday (that's tomorrow) we leave for India. I am nervous and excited. I have been hard at work preparing my luggage for our trip. It's been a long time since we have traveled somewhere so exotic. In addition to Ted and Chris, Sara and I are bringing along two friends from high school and Vivek Shraya (to open the shows). Oh and our MOM! Don't worry you'll be able to see all the fun on the DVD that we release next year! We are playing in Mumbai on the 23rd and in Delhi on the 25th! Can't wait to see you guys!
After that we're heading back to New Zealand, finally! It's been way tooooo long! Sara and I are doing 3 dates in New Zealand with Jack Johnson. Then we head to Australia to play 5 shows with Jack Johnson. If you live in Australia please stay tuned in the coming week as we are going to announce some special surprises about our trip that you can be involved in!
Alright guys! That's the update. We'll be on it and updating much more while we are away. Ted is loaded down with cameras and journals so we can capture our trip for you guys! Expect more updates here on .com than you have been getting these past few months! For now enjoy this Lindsey Byrnes photograph of us and the boys at The Warehouse in Vancouver this past weekend!
-Tegan (and Sara)