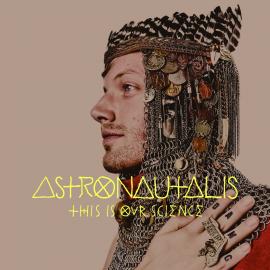 Hello out there!
Good tidings from Sara and I to each and every one of you! I hope you're all safe and sound and surrendering to Fall with grace and optimism! And YES, Sara is thrilled to be back in flannel and snow pants.
This week we have an announcement that I am especially excited to share with you all! Nearly 3 years ago now we played a sweaty, fun filled show in Seattle with a local artist that went by the name Astronautalis. The show was anarchy, for many reasons, and by nights end we were in love.
We enlisted Astronautalis to tour Europe and the United Kingdom with us. Then on to Australia we sailed and soon it became obvious why we liked having him around. He's good. He's devoted. He's passionate. He cares. And being around someone that's all those things, makes you feel inspired to be even better than you've been up to that point. He's also up for adventure and very funny which comes in handy in the middle of winter in Europe.
A great friendship was constructed over those months and soon we had Andy showering in an episode of Reflections for us. A true bond was sealed that night in … Denmark? He brought down the house in Berlin and spilled red wine all over my hotel room in Paris. It was a friendship for the ages (sorry I'm reading a lot of classic literature right now).
Okay. So, Astronautalis has been hard at work on a follow up to his last record (Pomegranate – amazing) and asked if I would be willing to sing on a track a few months ago (he actually asked both Sara and I but I was the only one near a microphone). I was wild with images of Andy and I encased in shrink wrap, our vocals together forever and said yes, please yes.
Want to hear the song? It's called Contrails. The video premiere is being featured now at pastemagazine.com (yes that's me operating a motor vehicle). Enjoy!
If you like, buy the record (which is truly mind bogglingly good) here:
https://www.circleintosquare.com/item/this-is-our-science
Or go see him on tour. His live show is not for the faint of heart. Or maybe that's exactly who it's for?
Toodles,
T-Dawg