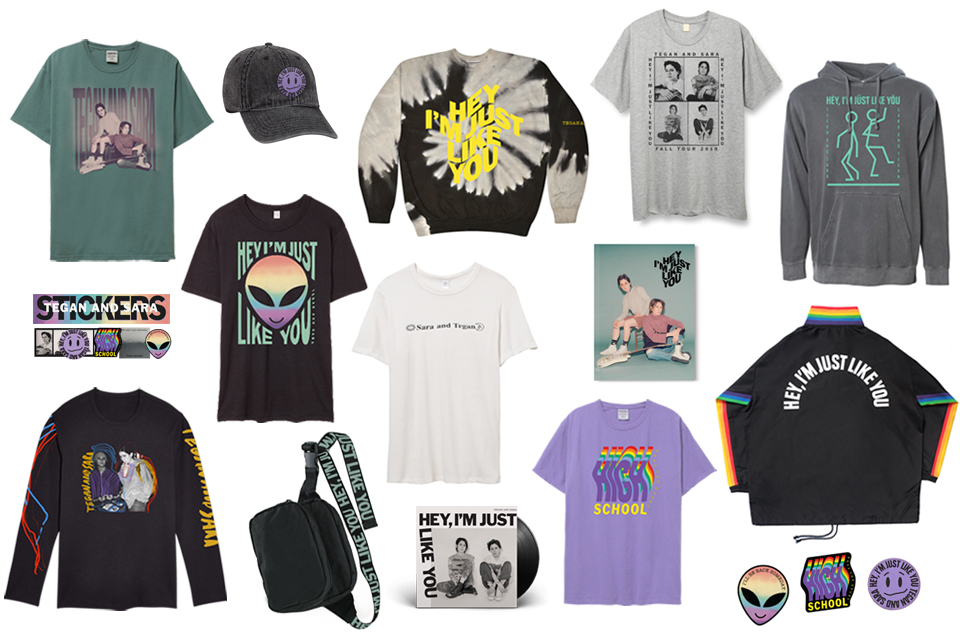 Check out our new merchandise line for the Hey, I'm Just Like You Tour! Inspired by our own 90s style, the album and our new book, High School.
There's the garment-dyed "rave" hoodie with puffy ink! The very popular tie-dyed Hey, I'm Just Like You sweatshirt! The long sleeve "slurp" tee, featuring a vintage photo of us with our beverage of choice. We even reprinted the very first t-shirt we ever made as a band – "the OG" Sara and Tegan on a heavyweight white tee, same brand, same style as the original.
We've also got stickers, patches, hat, a super cool custom Hey, I'm just Like You hip sack, and the amazing rainbow windbreaker which we are selling in very limited quantities each night! And don't miss out our tour book-show program! Full of all kinds of pics, stories and lyrics from this very special show. All our merch was designed by our long time creative director, Emy Storey.
We'll be joined by a book seller in each city who will have copies of High School available for purchase, and every night we'll be autographing a bunch of those books, as well as Hey, I'm Just Like You on CD and vinyl, all available at the merch table while supplies last!