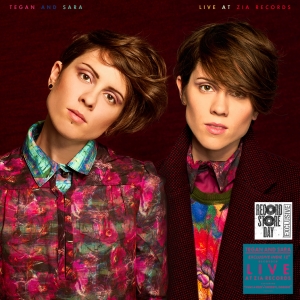 ***UPDATE: MISSED RECORD STORE DAY? YOU CAN BUY 'LIVE AT ZIA RECORDS' HERE! ***
We love Record Store Day and have put together a really cool piece of vinyl for it this year!
Over the years we have done a bunch of in stores at Zia Record Exchange, and in September of 2013, we recorded our live performance at the Thunderbird location, in Phoenix, AZ. We have been holding onto it for something special, and this is it!
Tegan and Sara Live at Zia Records
I Was A Fool
Back In Your Head
Goodbye Goodbye
Call It Off
Our art director Emy Storey took the opportunity to use one of our favourite Lindsey Byrnes images from our Heartthrob photo shoot for the cover. We were very close to using it for the cover of Heartthrob, so we are really happy to get an opportunity to use it for RSD!
The vinyl will be a 12 inch LP, cut at 45rpm in opaque aqua blue. Zia locations will exclusively have a limited amount of opaque grimace purple!
We also designed a special tote bag, the perfect size for toting around your RSD scores. We'll let you know where you can get the album and the bag as soon as we have info! In the mean time, keep counting down the days to April 18, Record Store Day 2015!
Tegan and Sara xo