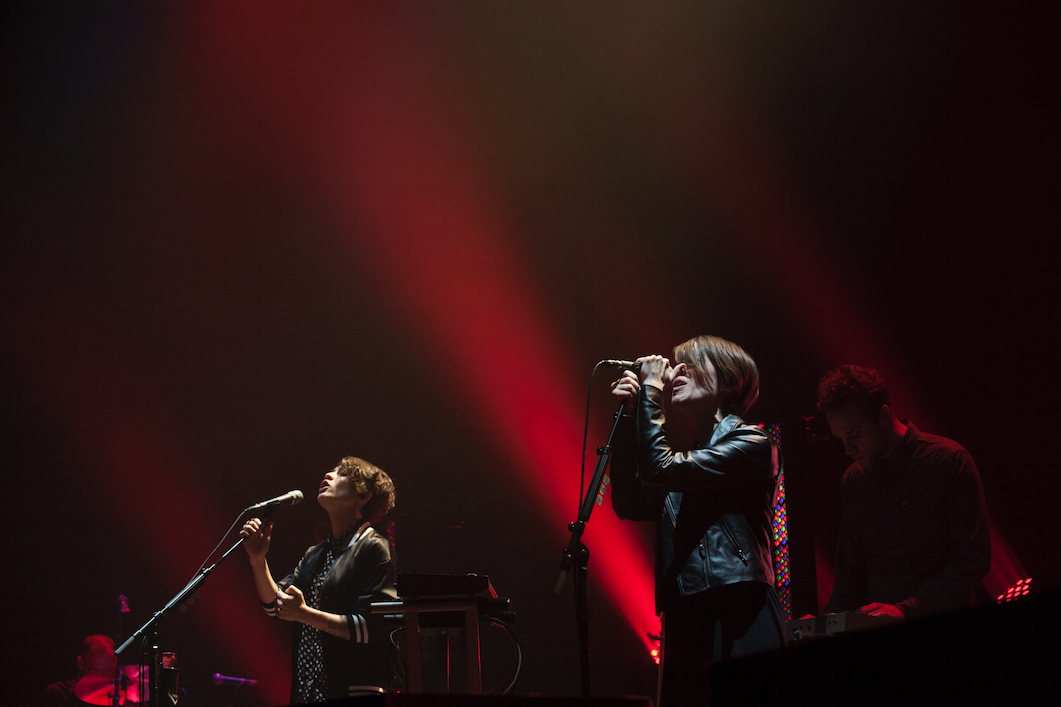 Hello!
For the last few weeks, we've been touring across the US and spending time with all our amazing fans! I can't believe the first leg of our Let's Make Things Physical tour has almost come to an end, but the good news is, we still have tons more dates to come!
The second leg of our tour starts up on June 16th in Minneapolis, MN and we're really looking forward to seeing you all out on the road.
For those of you who still need to get your tickets to see us this summer, here's a list of all our upcoming festival and headline dates before we head out on tour with Katy Perry in September!
You can find ticket links at www.teganandsara.com/shows
See you soon!
t+s
May 24, 2014 / Montreal, QC / Metropolis
May 25, 2014 / Boston, MA / Boston Calling Music Festival
May 26, 2014 / Toronto, ON / TD Music Cafe
Jun 14, 2014 / Vancouver, BC / CBC Music Festival
Jun 16, 2014 / Minneapolis, MN / First Avenue
Jun 17, 2014 / Chicago, IL / The Vic Theatre
Jun 18, 2014 / Chicago, IL / The Vic Theatre
Jun 19, 2014 / Pittsburgh, PA / Stage AE
Jun 21, 2014 / Dover, DE / Firefly Music Festival
Jun 22, 2014 / New Haven, CT / Toad's Place
Jun 23, 2014 / Bethlehem, PA / Steel Stacks Pavilion
Jun 24, 2014 / New York, NY / Hammerstein Ballroom
Jun 26, 2014 / Saskatoon, SK / Saskatchewan Jazz Festival
Jun 27, 2014 / Milwaukee, WI / Summerfest
Jun 28, 2014 / Grand Rapids, MI / Meijer Gardens Amphitheater
Jun 29, 2014 / Toronto, ON / World Pride Toronto
Jun 30, 2014 / St. John's, NL / Canada's Big Birthday Bash
Jul 01, 2014 / Charlottetown, PEI / PEI 2014 Canada Day
Jul 03, 2014 / Ottawa, ON / Ottawa Bluesfest
Jul 04, 2014 / Quebec City, QC / Festival d'été de Québec
Jul 12, 2014 / Yokohama Shi, Japan / Nano-Mugen Fes
Jul 13, 2014 / Yokohama Shi, Japan / Nano-Mugen Fes
Jul 23, 2014 / Peterborough, ON / Peterborough Music Fest
Jul 24, 2014 / London, ON / Rock The Park
Jul 25, 2014 / Guelph, ON / Hillside Music Festival
Jul 27, 2014 / Kelowna, BC / Centre Of Gravity
Aug 8, 2014 / San Francisco, CA / Outside Lands Music Festival
Aug 30 & 31, 2014 / Calgary, AB / X-Fest
Aug 30 & 31, 2014 / Edmonton, AB / Sonic Boom