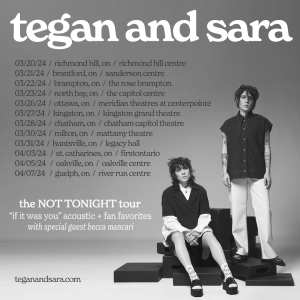 We've been teasing what we're going to do next year for a while now, and we're finally ready to tell you. Although we have ten albums, the first one that truly set our band on its way was "If It Was You." The album came out in August of 2002, when we were just shy of turning twenty-two years old.  Writing the album we had painstakingly learned Pro Tools so we could record ourselves and have a bigger hand in how our 3rd album sounded when we got into the studio.The first song Sara wrote for the album was "Not Tonight." She called me over to her apartment to help her record the demo. We doubled up the guitars and vocals and panned them all left and right. We thought we were geniuses! LOL! That night, sprawled in front of the speakers of my stereo at home, I listened with headphones again and again and again. I finally felt like we were getting close to sounding like the band I heard in my head.
Songs like "Monday, Monday, Monday" and "I Hear Noises" would go on to live in our set list for years after the release of the album.  But some of the songs we almost never played live. And we certainly never played the album from start to finish. BUT, next year we will!
Tickets for the "Not Tonight" tour go on sale this Friday. The presale launches Wednesday. We'll be playing "If It Was You" acoustic, as well as a set of songs from all our albums. We'll be joined by Becca Mancari on the tour! We are limiting our touring next year, so don't sleep on this run of shows.
March 20 – Richmond Hill, ON – Richmond Hill Centre for the Performing Arts
March 21 – Brantford, ON – Sanderson Centre for the Performing Arts
March 22 – Brampton, ON – The Rose Brampton
March 23 – North Bay, ON – The Capitol Centre
March 26 – Ottawa, ON – Meridian Theatres @ Centrepointe
March 27 – Kingston, ON – Kingston Grand Theatre
March 28 – Chatham-Kent, ON – Chatham Capitol Theatre
March 30 – Milton, ON – Mattamy Theatre
March 31 – Huntsville, ON – Legacy Hall at Deerhurst Resort
April 3 – St. Catharines, ON – FirstOntario Performing Arts Centre
April 5 – Oakville, ON – Oakville Centre for the Performing Arts
April 7 – Guelph, ON – River Run Centre