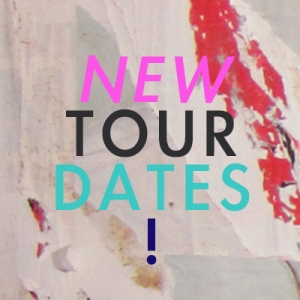 Hello Everyone!
As promised we've announced a HUGE list of dates for 2013! See below for all the shows we announced this past week, and go to the shows page for the whole list! And if you can believe there are actually still MORE dates to announce soon!
We are so happy to be returning to festivals we haven't been to for years, like SXSW, Coachella, Southside and Hurricane in Germany, Hultsfred in Sweden and Groovin The Moo in Australia, plus our first appearance at the Sydney Opera House! Even more thrilling is visiting new places we have never, ever been to like Singapore and Jakarta! It's a very exciting time!! Europe, we promise you are next!
Our summer tour with our great friends FUN. will take us all over the United States, so make sure to see if we are coming near you. The public on-sale starts today and tomorrow, check the tour dates and get your tickets here! It will be an amazing show, we'll be playing sets with plenty of time to yak in your ears and play lots of new songs from Heartthrob and re-visit old favourites.
First things first though, our headline tour of our home country of Canada, plus more US headline dates – it all starts next week!! So get your hair cut, pick out your best outfit and get ready to dance like you have never danced at a Tegan and Sara show. We are going to blow you away (but in a safe, non-injury causing way cause safety never goes out of style)! We're playing all of Heartthrob not to mention 15 oldies from our past 6 records! So be sure to grab tickets to a show near you ASAP!
See you soon!
Tegan
SXSW, Austin, TX
(more appearances to come soon!)
Wed, March 13
Waterloo Records Free Outdoor Stage
2pm, All ages, no RSVP, badge or wristband required!
Full line up at waterloorecords.com
Wed, March 13
The Nikon Warner Sound Showcase with Paramore, 21 Pilots, The Rubens, Skaters and Kitten
The Belmont, 7:00pm, 18+
RSVP at http://nikon.thewarnersound.com/
April 25 and 26 (TWO SHOWS!), Sydney, Australia
Sydney Opera House
Tickets at sydneyoperahouse.com
May 13, Singapore
Esplanade Concert Hall
Tickets on sale Feb 20 at 9am at www.sistic.com.sg
More event info at https://www.facebook.com/events/623302241020680/
May 15, Jakarta, Indonesia
Big Sound Fest, Lapangan D
Tickets on sale Feb 19, links to come
June 15, Hultsfred, Sweden
Hulsfred Festival
Info and tickets at hultsfredsfestivalen.se
June 21, Scheessel, Germany
Hurricane Festival
www.hurricane.de
June 22, Neuhausen, Germany
Southside Festival
www.southside.de
July 12, Cincinnati, OH
Bunbury Festival
.bunburyfestival.com