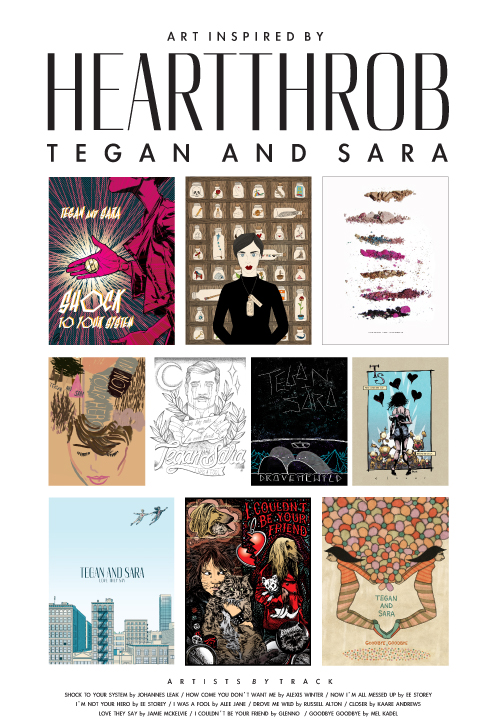 Hello!
We love hearing how our music inspires you to create art of your own, and we came up with the idea to approach some artists whose work we admire to create an art piece inspired by all the tracks on Heartthrob.
Closer – Kaare Andrews
Goodbye, Goodbye – Mel Kadel
I Was A Fool – Alee Jane
I'm Not Your Hero – EE Storey
Drove Me Wild – Russell Alton
How Come You Don't Want Me – Alexis Winter
I Couldn't Be Your Friend – Glenno
Love They Say – Jamie McKelvie
Now I'm All Messed Up – EE Storey
Shock To Your System – Johannes Leak
We have now collected all these pieces and created a Heartthrob poster series and postcard set!
The postcard set will be available to purchase on the road at select shows, starting at our European shows this month while supplies last.
The poster series is available for pre-order now at teganandsara.com/shop. You can buy the posters individually, or you can buy the whole set, and receive one of a limited number of autographed cover pages!

In other merch news, we have new shirts, a hoodie and top ups in the sizes of our top sellers at teganandsara.com/shop, as well a new hoodie and sweatpants in the US store. Get cozy with new gear for Fall!
T+S