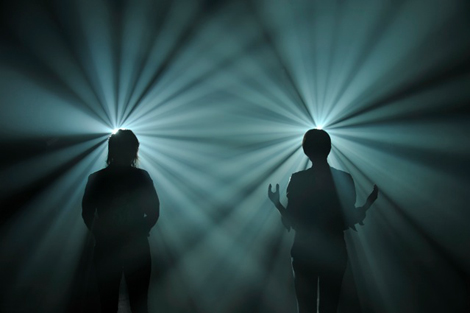 People of the world!

A few months ago we shot two new music videos in Vancouver while we were between tours. Sara and I wanted to do something really simple and performance based for these latest videos from Sainthood and so if you were becoming attached to our high concept, confusing music videos of late, then you might not dig these videos.

In On Directing, Sara and I are wearing gorilla suits and are on the moon. We spend most of the video trying to come up with a formula to make the iPHONE not break when you drop it.

In Northshore, Sara and I spend most of our time in an imaginary mosh pit in a room decorated with artwork from our past 12 years as a band.

Obviously only one of those treatments is real. To find out which one is made up and which one is exactly as I described watch the video premiere for On Directing this Monday, July 26! Canadians will be able to view it at muchmusic.com and the rest of the world can see it at alloy.com. We will post the direct links on Monday.

Then two weeks later, Northshore will be premiering on Tuesday, August 10 on myspace.com worldwide.

Obviously you have to wait a bit longer to actually see the videos, but we wanted to tease you a bit by showing you some of Lindsey Byrnes' photos of the shoot (find them on the photo page) and a video I made.


Enjoy the videos you guys! They are from us to you!

Tegan (and Sara)